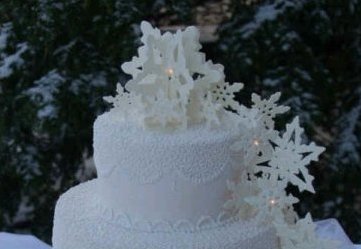 10 % Winter Discount
The hustle and bustle of the holiday season are behind you, and the quiet winter months provide an excellent opportunity to stretch your budget dollars while planning your dream wedding!  You'll find more scheduling flexibility at the region's leading reception venues, as well as more availability with your first choice of wedding professionals. 
During the slower-paced months of January through March, I offer my clients a 10% discount on the cost of their wedding cake.  Wedding cakes adorned with sparkling snowflakes, and others that look like a stack of glittery packages are just a couple of the ideas that winter in New England inspires.   Feel free to call about the unique seasonal designs available to you during this quiet season when life slows down just a bit.  I look forward to hearing from you....
Best Wishes,